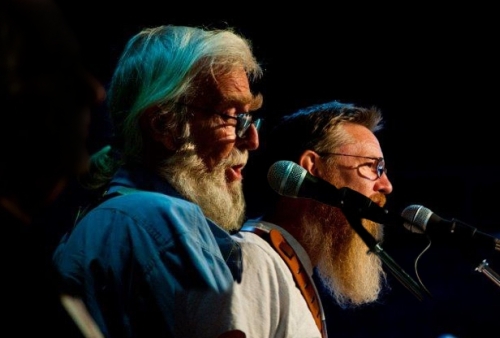 Roger Montgomery & John Angliss, are Dingo's Breakfast, WA's popular touring folk act. They are frequently joined by Bruce Boyd and/or Toby Montgomery.

The Dingo's Breakfast tour every summer in the eastern states of Australia, appearing at the very best of the festivals, clubs and venues.

With decades of performance experience under their belts, The Dingo's Breakfast present an electrically eclectic dialectic selection of Oz Music, Poetry and Yarnspinning, with the accent firmly on Comedy . . Beauty!

Dingo's Breakfast concerts are a wonderful mix of Traditional and Contemporary Australian and Irish Songs, lavishly salted with an edgy slam of Performance Poetry. The Dingo's have comprehensively proved that Performance Poetry is not just for breakfasts any more.

Click here to get
your copy now.
As well as our general performances (comedy, social comment, & Australian culture with a strong flavour of the wild North-West), The Dingo's are currently featuring our new CD Jack Sorensen - Weaver of Dreams

---



300dpi Publicity Shot (right-click and download)








Jack Sorensen - W.A.'s Fighting Poet
Weaver of Dreams
Down a minor road at the back of the once booming railway town of Midland lies the grave of Western Australia's fighting poet. A simple headstone bears the inscription . . .

Jack Sorensen 1907-1949 . . "Weaver of Dreams, Farewell"

So begins the fascinating story of the life and times of Jack Sorensen, Orchardist, gun shearer, wool-classer, boxing champion, journalist, soldier, poet and balladist.

The Dingo's Breakfast Oz Music & poetry Band tell of Jack's life in narrative, verse and song . . born in the Kalgoorlie goldfields, this is the story of a man who taught himself to box, becoming a W.A. welter weight champion, fighting under the name of Johnny Brown, achieving this feat so as to be able to recite his ballads anywhere, anytime without having to face too many derogatory remarks from the more bone-headed & flint-hearted of his times contemporaries . . mates would say "this bloke's a poet, but look out, he can fight too"

From the mining towns of Western Australia, and the Kalgoorlie's goldfields to the orchard in the foothills of Perth, the huge sheep runs of the North-West and the Melville Army camp he travelled, penning his experiences and reflections until his most untimely demise.

From an early age Jack displayed a love for poetry, and his mother, Australian born of anglo-irish parentage knew that the flame burned strongly in her son, and it was she that handed on to him a strain of delightful humour and imagery, coupled with the songs and stories from her mother's native county Meath.

As a consequence, Jack saw himself as the re-incarnation of one of those ancient bards, roaring out his ballade in a rush-strewn hall as did the great Irish balladists of days of yore.

"Such a lovely show" - Lynne Sorensen (niece)

---
Uncle Jimbo's Island Bar Lectures
Uncle Jimbo, welder, truckie, nasho, shearer and dedicated boozician, was a marvellous example of a mid to late mid-twentieth century Antipodean Jack of all Trades.
Rocking through the 60's and 70's, Those exhilarating times, before the 'Thought Police' started hemming us in and cutting us out . .
"I bloody loathe these Social Engineers and New Dealers, these New Age Wowsers and Control Freaks who impose ever more restrictions upon us Lower Orders !" roars the unrepentant Uncle Jimbo from his favoured position . .
The Island Bar in any local Hotel . . Mad Lectures ranging from 'City Cockies' 'Dog Beaches' 'Ghostly Drives' 'Sunday Drives' 'Real Estate Agents' 'Christmas' 'Gambling' 'Yuppies' 'Rites of Passage' through to the Death of his Dad . .

This is a tribute to an extraordinary man. A Larrikin of the first water. A Warrior in the best tradition, delivered with the Dingo's own healthy dollop of belly laughs . .
. . Killed by a Falling Shark.
Uncle Jimbo. Friend & Mentor.

---